Research Team
Pancreatic Cancer Biology Research Team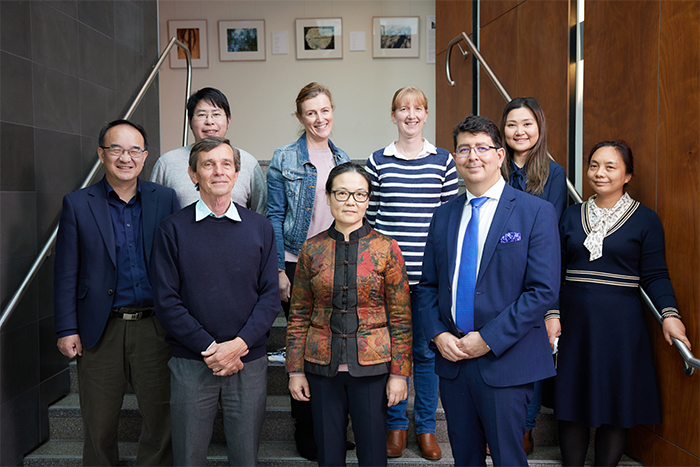 The team consists of the following members
Associate Professor
Mehrdad Nikfarjam

Dr Hong He

Professor
Graham Baldwin

Ms Chelsea Dumesny

Ms Allison Collins

Ms Patty Lin

Dr Jun Zeng

Dr Yi Ma
We are proud to have set up the Pancreatic Cancer Biology Research Group to focus on world class research into pancreatic cancer. Our major interest is the identification of novel methods to improve treatment response and survival. We are located at the University of Melbourne, Department of Surgery, Austin Health. We have an array of projects that ultilize various animal models of pancreatic cancer that replicate the human situation. We are strengthened by our team's involvement with national pancreatic cancer trials, international collaborations with leading cancer institutes and links with drug development companies. These attributes and our initiatives for early pancreatic cancer detection allow rapid translation of our laboratory findings into the clinical setting where applicable.
Our team consists of surgeons, clinicians and researchers working closely together, and having collaborative links with various groups.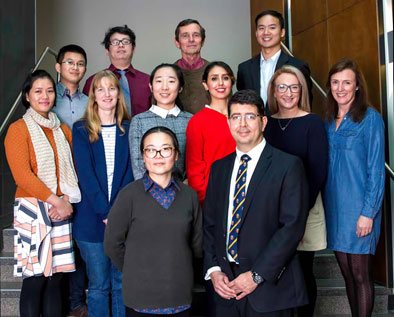 PhD Students
Any expressions of interest for prospective PhD Research Students please contact lpbsurgery@gmail.com for further information.
Clinical Research
Familial Pancreatic Screening Program
In conjunction with the Austin Hospital and the Olivia Newton John Cancer and Wellness Centre, the Familial Pancreatic Screening Program in collaboration with the Garvan Institute is a screening trial supported by the Pancare Foundation.
Aims of the Study
The aim of the study is to identify and screen high-risk individuals using endoscopic ultrasound (EUS) to determine any small changes to the pancreas.
Eligibility
To be eligible to participate in this trial you need to follow the following criteria
People with two close relatives affected by pancreatic cancer on the same side (e.g. a parent and a sibling)
People who are known carriers of the BRCA2 gene and have a first-degree relative with pancreatic cancer
People with Peutz-Jeghers Syndrome
People with Hereditary Pancreatitis
How do I become involved?
If you are unsure about your eligibility you can contact the Trials co-ordinator at Pancare on 1300 034 047 or email trials@pancare.org.au.
Pancreatic cancer genome initiative
Clinical studies are in progress assessing circulating tumour DNA as a prognostic marker in patients with pancreatic cancer. Previous studies have found that the majority (more than 95%) of pancreatic cancers contain a mutation in the K-Ras gene in the cancer cells and this mutated DNA can be detected in the blood. We are searching for the presence of cancer DNA as well as normal DNA in the blood of patients undergoing surgery or chemotherapy. This information may provide information on the likelihood of cancer recurrence and prognosis in these patients.
Predictors of cancer recurrence
Ongoing studies aim to improve the safety of pancreatic surgery and reduce complications. We have a focus on methods to minimize intra-operative fluid administration and to enhance post-operative recovery with the use of speci¬fic management protocols.
Basic Research
The role of P21-activated kinase in pancreatic cancer
Studies are in progress examining the role of P-21 Activated Kinases (PAKs) in pancreatic cancer. Pancreatic cancer develops as a result of a series of genetic mutations, and progresses from non-invasive tumours to invasive and metastatic cancers. The most frequent mutation, observed in more than 95% of cases, involves the K-Ras gene. The product of the K-Ras gene is a protein of 21kDa(p21), which binds to and activates PAKs. The PAK family of serine/threonine kinases are not only important in cancer formation, but also appear to be important regulators of the cancer environment, growth and spread. The group is currently assessing the role of unique PAK inhibiting drugs either alone or in combination with various chemotherapies for the treatment of pancreatic cancer in animal models.
Novel treatments for pancreatic cancer
A range of novel therapies are being tested for treatment of pancreatic cancer. This includes: 1. The use of inhibitors of c-Jun protein kinase (JNKs) for treatment of cancer. 2. The eects of exercise on improving chemotherapy treatment, and 3. The role of cannabis in the treatment and prevention of pancreatic cancer. The Pancreatic Biology Research Group at the University of Melbourne is of the few groups in Australia working with licensed medical grade cannabis companies in determining the potential benefits of cannabis for cancer treatment.
Mouse model of pancreatic cancer


A pancreatic cancer model using mouse cancer cells has been characterised in our laboratory. The model allows us to assess the impact of various drug therapies on pancreatic cancer in a realistic setting. We have also available a mouse model (the KPC mouse) which spontaneously develops pancreatic cancer.

Patient-derived pancreatic cancer cell lines


Collection of tissue samples from patients undergoing surgery for treatment of pancreatic cancer is ongoing and we now have over 100 samples in storage. We also collect tumour samples from patients whose pancreatic cancer has spread to other organs. From these tumours, pancreatic cell lines are derived and characterised, including pancreatic stellate cells. Clinical information is also collected from these patients, so we can correlate patient outcomes to specific tumour features.
Donate
Donations will fund researcher salaries and support experimental costs, attracting the most talented research students globally. Financial support is essential in the fight against pancreatic cancer to allow world class research that can eventually improve patient outcomes.
You will need the Adobe Reader to view and print these documents.